PIANO RECITAL 5th May 2012
A wonderful piano recital of Scarlatti Sonatas, Chopin& Beethoven's Moonlight Sonata by Wilfrid Murray in Morpeth Methodist Church.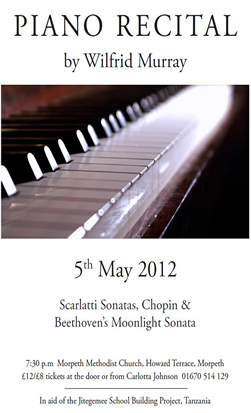 Bombadinga Drummers
On the 9th of July 2011 an excited crowd gathered for an evening of drumming and songs by Bombadinga Group. The evening ended with a selection of Tanzanian food and an update on the school building project.
"I'll Get By With A Little Help From My Friends" Musical Evening
A musical evening held on the 25th March in Morpeth Comrades Club raised £1000 for Jitegemee School.
The evening included various musical acts such as drumming, folk singing, classical guitar, a guitar-trumpet-clarinet trio and many others.
The auction went very well and the drumming group closed the evening with great energy and a tremendous African Presence.

"We like the comradeship. It is an evening when Tanzania is right here close by. We want this school to grow."
Quilt Raffle and Summer Yard Sale July 2010 (USA)
The sale of raffle tickets for a quilt donated by the Brunswick Quilting Guild.
| | |
| --- | --- |
| Adele Miller selling tickets for the quilt raffle | Support Mission in Africa |
The Quilt was made by and donated for this purpose by the Brunswick Quilting Guild. Each woman made 1-2 squares using shades of blue and then the squares were sewn together and a border put on. We hope to raise over $1000 by the sale of the raffle tickets.